Fame is a crazy thing, isn't it? Civilians crave it, celebrities bemoan it, and like power, fame can corrupt absolutely. We all have seen what fame did to people like Charlie Sheen and Lindsay Lohan. And Drew Barrymore has probably been in Betty Ford more than Gerald Ford was. So why do we all continue to chase that elusive Golden Ticket out of obscurity? Because fame = power. But as it says in the Bible, "With Great Power Comes Great Responsibility"*
*...oh, wait. No, that was Spiderman. Anyhoo...
I have always been a whore for the spotlight. For many people, getting in front of a crowd and making a jackass of yourself is more nerve-racking than a Bosnian beer run, but it gives me such a high that it makes crystal meth look like Pop Rocks. So that is why I took last Thursday off to head to the callbacks for "Wheel! Of! FORTUNE!!!" Honestly, the timing couldn't be better because after Christmas, tuition, and a rent increase, I am about one paycheck away from living under the Hawthorne Bridge in a dwelling with walls that read "This End Up". Momma needs a new pair of Prada heels, y'all!
When I got to the hotel in Eugene for the audition, I noted with no lack of irony that it was being held in the same ballroom that had housed my wedding reception years before. Hopefully this event would be the sage burning that cleansed the Ghost of Psychos Past from the building. They packed over 200 of us pinheads in that room like circus clowns in a Mini Cooper and proceeded to show us a "Wheel" montage intended to get us fired up. And fired up we were, by God. Each and every person in that room was as vainglorious and fame-hungry as I and it was a beautiful sight indeed. Then they split us into groups for some simulated games and that, my friends, was what separated the wheat from the Wonder Bread.
The jokes just write themselves, folks.
We all know the world is filled with stupid people; just look at all of those dipshits driving 55 MPH in the left lane and asking for a price check at the Dollar Store. We live in a country where calling someone "phat" and "sick" is a compliment and calling them "Einstein" is an insult, for Christ's sake. And the stupid people were there in droves. Veritable DROVES, I tell you! I was in a group that probably had the collective IQ of the Kardashian sisters on NyQuil. When faced with the following puzzle:
M
Y
L
U
_
K
I
S
A
_
O
U
T
T
O
_
H
A
N
G
E
the woman to my left actually responded with a resounding "My life is a lot to handle!" Seriously? And she was one of the better ones! Is it just me, or are there more stupid people these days? She then proceeded to tell me that she had seven children under the age of twelve and was pregnant AGAIN. Now, I know it's your body and no one can regulate your procreation and yadda-yadda-yadda, but the thought of this troglodyte shooting out babies like a fucking Pez dispenser was disturbing on so many levels. Shouldn't there be a test before you're allowed to breed? Or even a three-day waiting period?*
*Ooh! They could call it the Brady Bunch Bill!
Sorry, I digressed for a moment there. So, after our lightning rounds they had us all sit down and take a timed, written test where we basically had to fill in the blanks on some really challenging puzzles like:
Famous Person:
T
_
M
C
R
_ _
S
E
I was feeling pretty bad-ass at this point, but let's be honest; being the smartest one on the "Wheel of Fortune" is a little like being valedictorian of the GED class. It is the shallowest of victories. After the timed test we had a twenty minute break; just long enough for me to hit the neighboring Starbucks ("Holla!") and gab with the 20-something hipster in my group. He was
"totally stoked"
because he'd been crashing on his friend's couch and since every contestant on "Wheel" gets a thousand dollars just for showing up he's
"gonna use the money to buy a rad house".
Amber Alert, Kato Kaelin. $1000 won't buy you a plastic house on Baltic Avenue, let alone the swingin' bachelor pad you've conjured up in your withered, PBR-soaked brain. I'd put off packing 'cuz it doesn't look like you'll be movin' on up to the Eeeeeaaaast Side any time soon.
When we came back the powers that be made the first round of cuts. Bye-bye, Octomom. Peace out, hipster dude. In the end there were about 35 of us left standing. Then they came around and had us fill out our paperwork and show our photo IDs. These people were hard-core, yo! They scoured my driver's license with an intensity that would make the San Diego Border Patrol look like Wal-Mart greeters. It's "Wheel of Fortune" for sobbing out loud; not a job application for the CIA.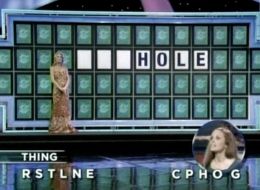 Oh, Jeebus, PLEASE let there be an 'S'.
"I don't have any ID" said the young man to my right. "Is that gonna be a problem?" Wait...what? Who doesn't have ID? What are you, some David Carradine flunkie nomdically roaming the Earth? Maybe "all who wander are not lost" but how about wandering your sorry ass into a DMV, Frodo. One of the women started whispering to her friend that she was going to flirt with the one man in the casting crew. She giggled that she was an actress and just KNEW this would be her big break! Dream big, Babe. But I hate to tell you, the Channel 9 casting toadie can't get you into Ellen's green room; shit, that dude probably couldn't get you into CostCo. I'd start finding another casting couch to spread-eagle on if I were you.
After ensuring that we were in fact, who we claimed to be, they conducted individual interviews and played more simulated rounds of the game. As this was going on they kept making cuts and people were disappearing faster than a box of doughnuts at an AA meeting. One woman had a laugh like Pee-Wee Herman getting a knob-job from a belt sander -- OUT! One other guy was so lethargic I was tempted to hold a mirror under his nose to see if he was breathing. Go to Starbucks, get a quad-shot Americano, and wake the fuck up, Homeslice -- OUT! The puzzle is
M
_
S
S
_
S
S
_
P
P
_
R
_
V
E
R
and you ask to buy an 'A'? -- Oh, HELL to the OUT! In the end, there were only 15 potential contestants left. Say 'hello' to number 12, bitches!
So now, I wait. We were told that if we are chosen, we will be notified by mail within two weeks. No letter = no wheel. As I am at that awkward stage in life: too old for "The Real World", too stupid for "Jeopardy" and too sober for "Intervention", this may be my only hope for seeing my sorry ass on the tee-vee. And trust me, viewer discretion will be advised.