A few weeks back, I started a self-improvement project, inspired by Jenny Lawson, the Great

Bloggess

. To read about the origin of my project, look

here

. For the short version, each week I will set out to conquer something that is holding me back from being the person I want to be. A relationship, a memory, a fear. . .anything that makes me less than I am. I will attack each challenge wearing my red dress as a cape for inspiration and as a symbol of the superheroes we all are inside. My goal is to undertake the daunting task of taking one crazy, neurotic, and mentally unstable woman and molding her into a productive member of our crazy, neurotic, and mentally unstable society.
Muslims.

What does that word do in you. . . to you?

What images come to mind when you hear the word "Muslim"?

The Qur'an help aloft?

The World Trade Center collapsing?

The American flag being burned in effigy?

I am not distant from these preconceived notions, but feel the need to address them and reconcile my reactionary thoughts with my faith as a Christian.

Passing along the hate-filled e-mails, posting anti-Muslim videos and articles, and swearing vengeance may be cathartic, and may be common and expected behaviors for people with no religious affiliation, but it is not acceptable behavior for anyone who has a belief in a Higher Power and a spiritual connection to the world.

Besides, as someone with a well-established "screw you, I can think for myself" type of mantra, relying on conspiracy theories and misinformation to form my beliefs is not really an option.

Concerning Muslims, I was tangentially tolerant; no real feelings or emotions one way or the other.

So, I decided that it was time for me to form some of my own opinions; to do some "homework" and ensure that my beliefs were in alignment with my faith.

So, I asked my friend Rachel if I could join her for worship at the mosque in Southwest Portland.
Since I was feeling a little nervous, I asked my friend Kelly to come along with me as she is the one person I know with more balls than brains and will therefore go along with my random dickery.

Rachel asked us both to bring scarves to cover our heads and I dressed in what would have been appropriate at my church.

Of course, as I tend to dress like an aging game show hostess, my wardrobe choice proved to be highly inappropriate.
Kelly got to the mosque first and called me on my cell.

"Dude, I am dressed WAY wrong.

I've gotta go home and change".
"Umm, I'm wearing sequins and heels.

Do you think that's OK?"
I asked.
Kelly laughed (or choked...it was hard to tell).

"Yeah, that should be fine. . .you'll be the perfect example when they preach about WHORES!

Seriously, Jen.

These people look uber-conservative."
"Shit",
I muttered. "There's no time to change.

We'll have to wing it."
When I pulled into the parking lot and saw the people filing in, I understood Kelly's concern.

Women were arriving in the most beautiful and colorful outfits.

Long tops, covered arms and legs, and scarves so snug to their faces that not a hair was showing.

Kelly looked at me helplessly but as "Let's not do this" does not exist in my vocabulary, I told her to nut up and we made our way to the entrance.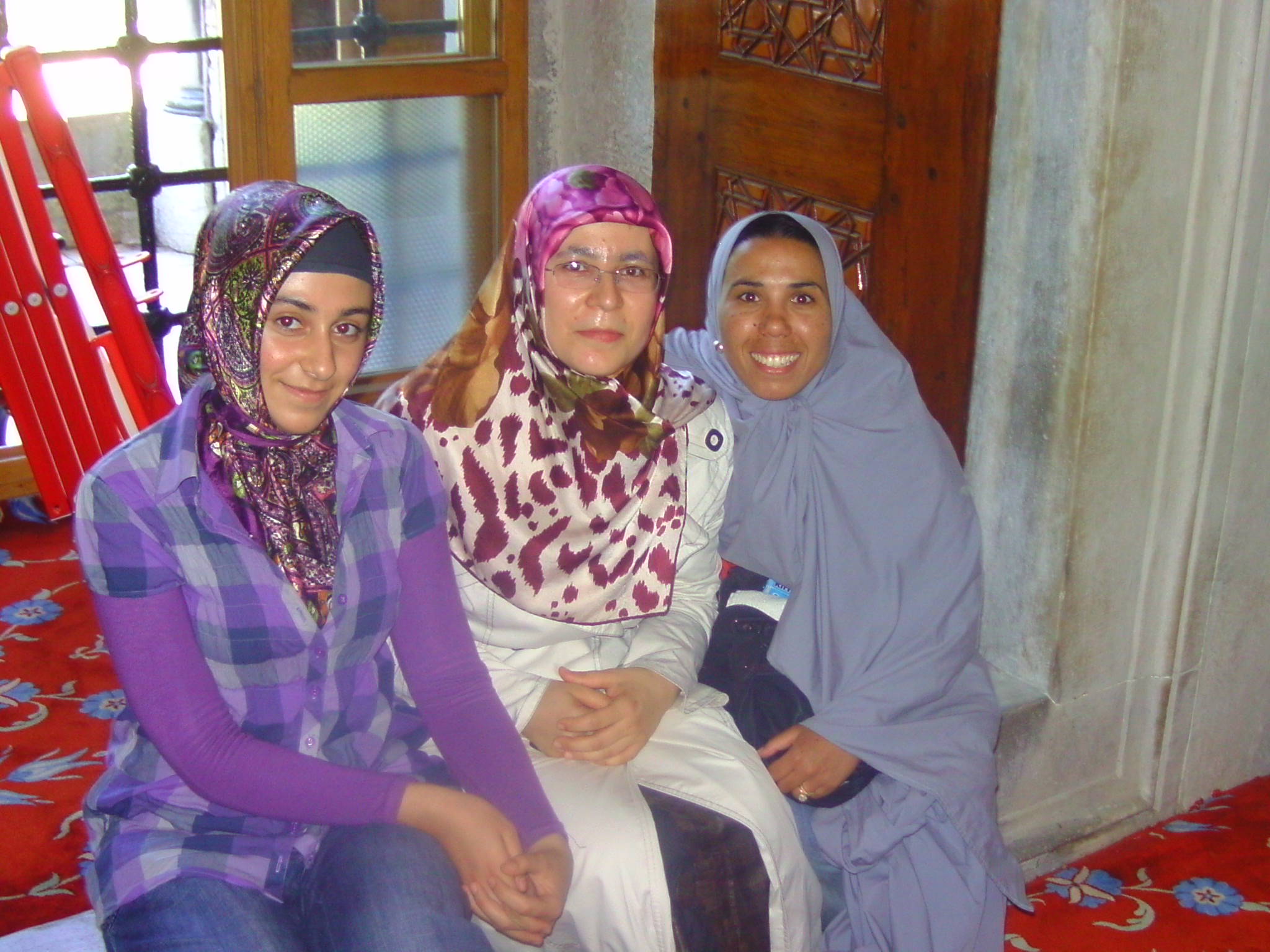 "Are you visitors?" we were asked again and again as it was glaringly obvious that everything about Kelly and myself screamed DOES NOT BELONG!

We met Rachel at the door and she led us past the dining hall to the Cleansing Room.*
*I'm sorry for the lack of pictures, but photography was forbidden so I'll do my best to describe the mosque's interior.
In the Cleansing Room each body part is washed in sequence (hands, wrists, forearms, elbows, faces, hairline, feet, and ankles) and an associated prayer is uttered with each washing.

If, during the process, you need to use the bathroom or if you touch a member of the opposite sex, you must start the cleansing process again.

This is a very clean group of people.

Rachel then took us along the side entrance to the women's area of the mosque.*
*In 3/4 of the mosques in America, the women and men are separated.
We removed our shoes and donned our scarves.

Mine was pretty damned pathetic and just sort of draped the back of my head like a retro-Catholic schoolgirl but there were spare robes and scarves for Kelly and me to borrow so that all of our requisite body parts were covered.

We sat in the back of the women's section with Rachel, who answered our questions and explained the rituals.
The imam (literal translation: "man in front") led the prayer sequence.

While standing and bowing, the individual prayers are rote; when the forehead is on the ground, the most humble position to Allah, personal prayers are offered.

After about 30 minutes of prayer, we filed out to the dining area to feast.

Men entered through one door and women and children through another.

Tables were lined up down the center of the room, dividing the sexes.

The women at my table were gracious, engaging, and friendly, and although most were Middle Eastern, they represented a myriad of cultures and ethnicities.

We talked about what brought them to the U.S., their native education, how their children adapted to the American schools, and how they struggled to separate who they are as Muslims from the destruction caused by extremists.

Every question we asked was answered openly and honestly and there was not one moment of tension or discomfort.
This looks exactly like what we were served. That food was cray-cray good, yo!
After dinner it was time for Round Two of evening prayers.

Kelly was tired and getting cranky so she said goodnight and I prepared to reenter the prayer room.

As it was, I never made it as I got caught up in conversation with one of my dining companions; a young woman from Jordan.
"We are a peaceful people"
she said softly, "9/11 was not a fair representation of the Muslim faith...we are called to live in peace above all things."
I was curious as to the differences between her faith and mine.

To a Muslim, Mohammed is the Final Messenger of promise by Allah and spoken of by Jesus.

Unlike The Christian faith, the Muslim religion is one of law and politics rather than just a religious methodology.

In the U.S., we separate politics, law, and religion; Islamic nations blend all three -- they are inseparable.

So when one suggests burning the Qur'an, it is as though they were burning the American flag, the Bible, AND the Constitution.

When people suggest that the U.S. will only allow a mosque at Ground Zero when "they" allow a church in Saudi Arabia they do not fully understand the dichotomy.

Our democracy stands independent of our religion; it can still exist with many forms of worship inside of it.

In Islamic countries, Islam is the government and the religion and is not tolerant of different ideologies.

For Muslims emigrating to the U.S., this can be a difficult adjustment.

They can bring their religion, but must find a way to separate it from their laws and political views.
"I know that many people hate us"
my dining companion bluntly stated "but we are not all terrorists.

People have done horrible things based on the Bible as well but that doesn't mean Christians are bad people either.

It is not the authors of the Books that are the problem -- it is the readers of the Books."
As we were speaking, an older woman approached and whispered to me, "Please cover your pretty hair, your bangs are showing. And please place your feet on the ground; your ankles and legs are showing and you are distracting a man.

This is a courtesy in our mosque.

Thank you very much."

I apologized and quickly covered myself.
As the evening drew to a close, I thanked my hosts, gave Rachel a hug, and drove home deep in thought.

How well had I thought of Muslims before my visit?

Not very well.

It is neither fair nor accurate to point to a radical sector of a group and assume that the entire group displays those traits. We all have our fanatics.

Hitler cut and pasted the Bible to suit his needs just as

Osama Bin Laden quoted the Qur'an verses about war and not the ones espousing peace and the dictate to never take an innocent human life.

Bin Laden

did not speak for the millions of peaceable Muslims any more than Hitler spoke for most Christians.

So, how do I repackage that information and fit it into my Christian beliefs?

I can only govern my own thoughts and actions.

I can take the time to learn about other cultures and religions; I can show kindness in the public arenas, respect and yearn to understand divergent faiths, and draw upon our similarities to stop the misunderstandings and prejudices.

The commonalities are there if you just look for them.
I don't see my visit to the mosque as the "end goal" to this week's Red Dress Challenge.

The end goal is to continue to communicate with honor, and to live in peace with different cultures and faiths.

Who knows?

They might actually see something irresistible in me as well. . .besides my ankles.