Recently a plague swept through our town, knocking down everyone in its wake and smacking my ass like a hooker at a gangbang. For the last two weeks the entire city has been coughing and wheezing like Carnie Wilson in a Zumba class and the other day my hippy-dippy friend, Kellydecided it was time to take action.
I love Kelly so therefore I express my fondness for her as I do all of my friends by mocking the ever-loving shit out of her lifestyle. She is a militant vegan, non-car-owning bike commuter, and a proponent of holistic health care; all things that make me touchier than a priest at a Vatican summer camp. I am not one to generally believe in this "peace, love and tofu" bullshit, but as I also did not believe I could go one more day feeling like I'd shoved my lungs into a blender filled with drywall screws, I agreed to join Kelly on a two-day cleansing juice fast.
Fasting is not new to me as I spent several years starving myself, but doing it in a healthy manner is something of an alien concept.*
*When I got out of college my diet consisted of Skittles and Potter's vodka. I was a bulimic/anorexic wanna-be, but my raging alcoholism always held me back.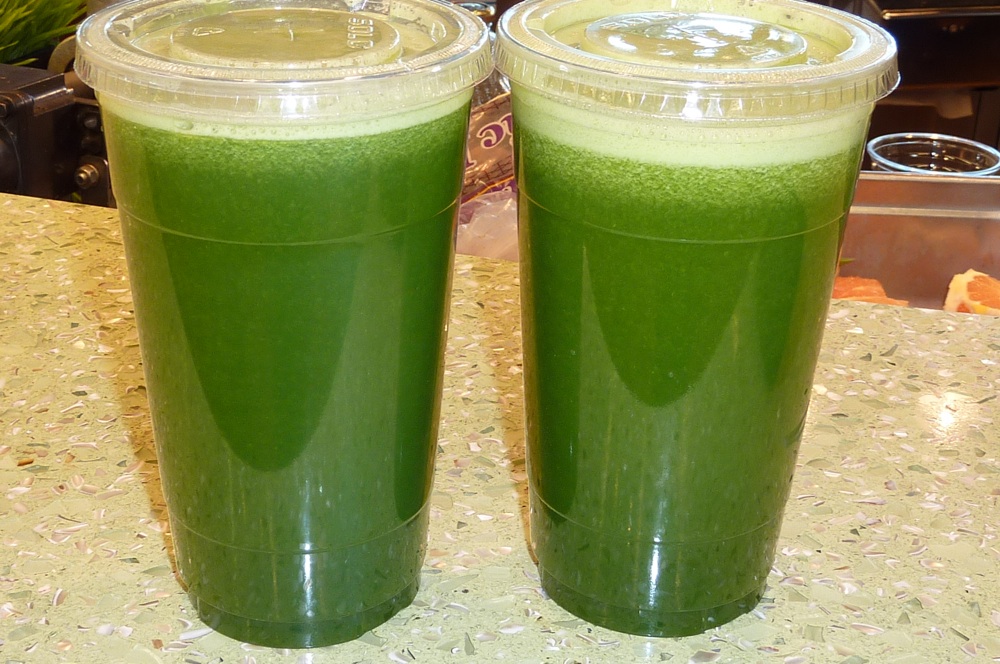 If you close your eyes it almost tastes like mangoes. Mangoes covered in horseshit and aquarium scum.
The basic premise of this fast is that for 48 hours you drink only warm lemon water, a detoxing herbal tea blend, and a green juice made of fruits, vegetables, and spirulina. After about eight hours of this dickery I came to two conclusions. First, I would get my ass kicked at the Hunger Games, and second, if you subsist on nothing but dandelion tea and green juice then somebody will get killed. Either I'll keel over on the stairs in a pool of my own spirulina-tinged vomit or I will stab someone in the neck with a Sharpie just to watch them die. Apparently the stabby thoughts are good however as Kelly informed me that was just my body's reaction to the toxins leaving my body.*
*And after ingesting so much tea consisting of dandelion, geranium and hibiscus, when I pee I experience the fresh scent of potpourri. Huzzah!
Apparently another sign of detoxification is that after the first day you get to enjoy projectile diarrhea, bad breath, and sweating like David Duke at a Black Panthers rally. And this isn't your normal sweat; this is Frenchman-eating-liverwurst-in-a-port-a-john sweat. All the Speed Stick in the world could not vanquish this stank.
Having made it through Day 1, I actually did start to feel a little better, but seriously?
Why do they call it a fast when it goes so fucking slow? To be honest, the next time I feel like detoxing my body I'll just check into Betty Ford for a few weeks. I don't get why people are so down on rehab; spending six weeks lying on a couch, drinking coffee, and talking about myself all day sounds like heaven. By about 4 PM I officially lost my shit and proceeded to go all Mike Tyson on the dude standing next to me at the stoplight for playing his iPod too loudly.*
*In my defense, he was listening to Coldplay. Chris Martin fills me with the white hot hatred of a thousand suns.
So in the interest of productivity and keeping my sorry ass from getting arrested for throwing a Molotov Cocktail into the surrounding populi, I cried 'uncle' and went to the food trucks. I stealthily tucked my burrito into my purse and crept back to my cubicle where I may have unhinged my jaw like a python and inhaled the entire thing without chewing.*
*I will neither confirm nor deny this rumor.
This place is my raison d'etre.
Ten minutes later, feeling guilt-ridden and bloated, I decided to confess my indiscretion to Kelly. I walked the two miles to her house, let myself in through the kitchen door, peeked around the corner, and watched as she took one last bite of her Vindaloo curry. Wait. . .wha-WHAT!?!?
ME:
You broke the fast too?
ME:
The juice fast! I felt all guilty and shit because I just had a burrito and you're over here eating curry!
KELLY (snorting with laughter): Oh my God, did you think I was serious about the fast?
ME:
Wha. . .I. . .you mean I have been drinking dandelion jizz and pond scum for two days and you were kidding!?!?
KELLY (between paroxysm of hysteria): Payback for giving me your cold, Bitch.
ME:
I hate you so hard right now. . .are you going to finish that curry?